Zucchini Lasagna
Friday, July 14th, 2017 at 9:20 am
This is a great recipe to use up some of the summer zucchini crop. In this recipe, zucchini takes the place of pasta, making this a low-carb dish as well. You can also use thinly sliced eggplant and yellow squash in addition to the zucchini. A mandolin slicer might be helpful in preparing the zucchini. This recipe is adapted from
epicurious.com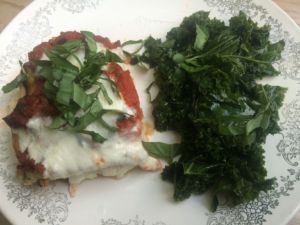 Ingredients:
1 lb. ground beef
salt
olive oil
5-6 cups marinara sauce (you can make
marinara sauce
using your Fair Ridge Farms tomatoes!). If you are using bottled marinara sauce you can jazz it up a little with sauted onions, peppers, mushrooms, fresh herbs and garlic. The measurement here is approximate.
4 cups mozzarella cheese–fresh and/or shredded. I used a combination of fresh and shredded cheese.
1 egg
1 1/2 cup ricotta cheese
1/2 cup Parmesan cheese
3 or so medium zucchini–thinly sliced.
Preheat oven to 375 degrees. Lightly oil a 9 by 13 inch baking dish.
Lightly salt the zucchini (or eggplant & yellow squash) pieces and set aside for 15 minutes.
Saute ground beef over medium heat, along with a little salt. Add marinara, simmer and then set aside on low heat. Add any additional herbs like fresh basil and oregano to the sauce.
Mix ricotta, Parmesan, and egg together.
Blot the zucchini dry with paper towels to absorb excess water.
Place a half cup of the meat sauce on the bottom of the pan. Then top with a layer of zucchini. Each zucchini layer can include two layers of zucchini, especially if they are very thinly sliced. If the zucchini is thicker you can just use one layer. Top with a half cup of the ricotta mixture, then a cup or so of mozzarella. Top with another layer of zucchini. Top that with 1 1/2 to 2 cups of meat sauce, 1 cup of ricotta, and a cup or so of mozzarella. Continue until you get to three layers of zucchini. Top the final layer of zucchini with the remainder of the meat sauce and mozzarella cheese. Cover with foil and bake for 30 minutes. Uncover and bake for an additional 30 minutes.
Note: if there is too much liquid in the lasagna, you can drain some of it after it finishes baking.
Enjoy!
Filed under: Food Blog