Roasted Squash Stuffed with Corn Bread Dressing
Wednesday, December 7th, 2016 at 8:44 pm
This recipe calls for acorn squash but you could use delicata squash or any other winter squash. This recipe calls for chicken broth, but you could also use vegetable broth to make this a hearty vegan entree, perfect for a holiday dinner. Serves 6–each serving is half a squash stuffed with dressing. This calls for maple corn bread, but you could use pre-made cornbread stuffing mix as well.
Roasted Squash Stuffed with Corn Bread Dressing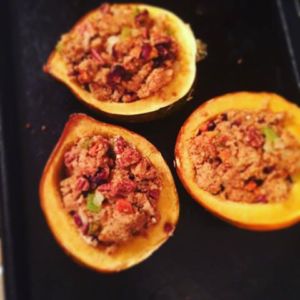 4 cups cubed maple corn bread (recipe is below)
3 acorn squash, cut in half and seeded
1/2 cup dried cranberries
2 tsp olive oil
1/2 cup finely chopped onion
1/2 cup finely chopped celery
1/2 cup finely chopped carrot
1 tbs chopped fresh or dried save
2 garlic cloves, minced
1 cup chicken or vegetable broth
1/4 cup chopped toasted pecans
salt & pepper to taste.
Preheat oven to 400 degrees.
Arrange cornbread cubes in a single layer on a baking sheet coated with cooking spray. Bake for 30 minutes or until bread is toasted, turning twice. St aside.
Decrease oven temperature to 350 degrees. Place squash cut side down in a baking pan with an inch or so or water in it. Bake for 20 minutes.
Heat olive oil in a large skillet over medium heat. Saute onion, carrots, and celery until onions are translucent. Add garlic, sage, salt and pepper and saute for three more minutes.
Combine toasted corn bread cubes, cranberries, onion mixture, broth, and pecans in a large bowl. Stir, tossing to coat. If it is too dry, add more broth.
Spoon about 1 1/2 cups dressing into each squash. Place squash halves in a baking pan, cut sides up. Bake at 350 for 30 to 40 minutes or until the tip of a knife pierces the squash easily.
Maple Corn Bread
1 tsp vegetable oil
1 1/2 cup flour
1 1/2 cup cornmeal
1 tbs baking powder
1 tsp salt
1 1/2 cup water
1/3 cup maple syrup
2 eggs
5 tbs melted butter
Preheat oven to 350 degrees.
Coat a 9 inch cast iron skillet with oil, and heat in the oven for 10 minutes.
Combine flour, cornmeal baking powder, and salt in a large bowl, stir well.
Add water and remaining ingredients to dry ingredients, stir until moist.
Pour into preheated pan and bake for 25 minutes or until golden brown.
Enjoy!
Filed under: Food Blog