Roasted Delicata Squash and Kale Salad with Maple Vinaigrette
Tuesday, October 18th, 2016 at 7:07 pm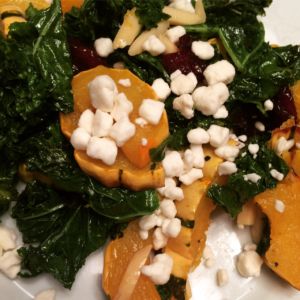 This is a salad, I suppose, in the sense that it is dressed with a vinaigrette and can be chilled for a few days before serving. That said, in this version both the squash and the kale are roasted. You could definitely try this recipe with raw kale or some other green. Serve at room temperature.
Roasted Delicata Squash and Kale Salad with Maple Vinaigrette
Slice one delicata squash into half moons (divide in half, remove seeds, and slice into 1/4-1/2 inch thick pieces.) Toss with olive oil, salt, and pepper on a baking sheet. Bake at 375 degrees for 20-30 minutes, turning once, until squash is soft and very lightly browned.
Meanwhile stem one bunch of kale and tear leaves into pieces. Toss with a little olive oil, salt, and pepper in a bowl, and massage kale with your fingers for a couple of minutes. Place on a baking sheet and roast for about 10 minutes along with the squash.
While kale is roasting, combine 2 tablespoons maple syrup, 2 tablespoons apple cider vinegar, 1 teaspoon dijon mustard, and 1/4 cup olive oil.
Place kale and squash in a large bowl, and add 1/4 cup dried cranberries, a handful of roasted nuts like slivered almonds, pecans or walnuts, and some goat cheese. Toss with about half of the dressing. Enjoy!
Filed under: Food Blog