Italian Sausage, Kale, and Tomatoes with Whole Grain Pasta
Thursday, July 6th, 2017 at 10:17 pm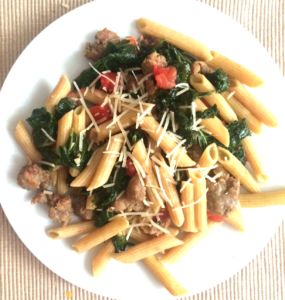 This is a delicious, easy weekday dinner that just takes a few minutes to prepare. Enjoy!
Ingredients:
1 bunch kale, stems removed and torn into small pieces
1 lb Italian sausage, casing removed and crumbled
2 cloves garlic
olive oil
red pepper flakes
Parmesan cheese
1 12 oz package whole grain Penne pasta
1 tomato, seeded and chopped
To prepare:
Cook pasta according to package directions, reserve 1/2 cup cooking liquid.
Saute Italian sausage in a little olive oil over medium to medium high heat. Once browned, add garlic and kale, saute until wilted. Add 1/4 cup of the pasta liquid and red pepper flakes, cover, and cook for 5 minutes until kale is soft.
Add pasta, tomato, and remaining cooking liquid. Warm and simmer slightly until liquid is absorbed.
Serve with Parmesan cheese.
Filed under: Food Blog