Friday, May 27th, 2016 at 9:25 am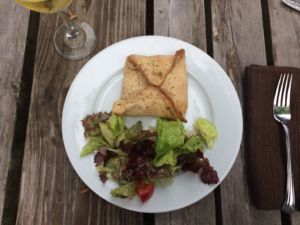 This recipe is very versatile. Any green will work as the filling, and you can also add another kind of cheese besides blue cheese. I have also included sausage in this recipe, but you can leave it out or substitute mushrooms. These are also perfect for lunch the next day. Makes six servings.
Spinach and Blue Cheese Calzones
for dough:
1 tbs fast rise yeast
1 tsp sugar or honey
1 cup warm water
1/2 tsp salt
2 1/2 cups flour (I used 1 1/2 cup whole wheat flour and 1 cup unbleached white flour)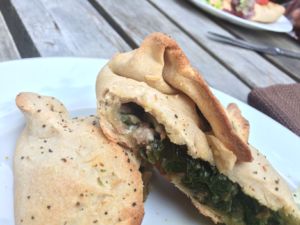 2 tbs olive oil
for filling:
1/2 lb sausage
3 bunches spinach, plus radish leaves and Swiss chard (these are approximate amounts. You can use a lot of greens here), chopped
1/2 cup chopped onion
3 cloves of garlic chopped
6 tsp blue cheese (approx)
salt & pepper to taste
crushed red pepper to taste
dried Italian herbs/seasoning
olive oil
Directions:
Preheat oven to 425 degrees, and grease a large cookie sheet.
To make dough: combine yeast, sugar, and warm water (between 105 and 110 degrees) in a large bowl and let sit for about five minutes or until bubbly. Add flour, olive oil, salt, and stir, then turn out on a floured surface. Knead for about five minutes. Let sit while you prepare the filling.
To make filling: heat olive oil in a skillet over medium/medium high heat and brown sausage. Add onions and saute for 5 or so minutes or until soft. Add salt. Add greens and garlic and stir, sauteing until much of the water is evaporated. Add a bit of salt & pepper as you go.
To assemble the calzones: Divide the dough into six equal parts. Roll each out into a circle, about 6-7 inches in diameter. Brush olive oil on the surface of each circle of dough. Place a scoop of filling in the middle of each circle (about 1/4 to 1/2 cup). Top each with a teaspoon of blue cheese.  To make each individual calzone, grab opposite ends of the dough and cross over the filling, pinching together. Then grab the other two opposite sides of the dough, and cross over the filling, pinching together. Pinch the seams closed. Repeat for each calzone. Brush the tops of the calzones with olive oil and sprinkle crushed, dried Italian seasoning (oregano, crushed red pepper, basil, rosemary, etc) on top if desired.
Bake for 15 minutes or so, until browned.
Enjoy!
Readers, please share your seasonal recipes with us! Email your recipe and a photo to megan@fairridgefarms.com.