Friday, August 11th, 2017 at 10:03 am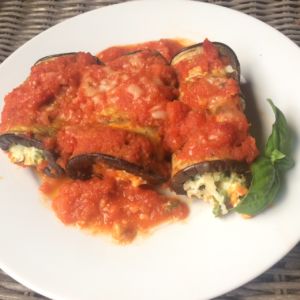 Ingredients:
2 small-medium eggplants
2 cups ricotta cheese
1/2 cup Parmesan cheese
1 cup mozzarella cheese
1/4 cup chopped fresh basil
1/4 cup (or more) chopped fresh kale
1 egg
salt, pepper
olive oil
Fresh Tomato Sauce:
olive oil
1/2 onion, chopped
2-3 garlic cloves, chopped
7-8 medium tomatoes
dash of sugar
salt, pepper
chopped fresh basil and other herbs like oregano and rosemary
To make the fresh tomato sauce, first blanch each tomato in water for 2-3 minutes, then sit out to cool. Once tomatoes have cooled, peel. Core the tomatoes, then cut into wedges. Use your fingers to remove the seeds. Set peeled and seeded tomatoes aside.
Saute onion in olive oil over medium heat in a heavy-bottom saucepan with salt and pepper. Once onion is translucent, add garlic. Saute for 2-3 more minutes. Add tomatoes, simmer for 5-10 minutes along with herbs and the dash of sugar. Then remove the sauce from heat and blend using a hand-held immersion blender. (Another option would be to more finely chop the tomatoes before cooking.) After blended, heat on low for 5-10 more minutes.
To make the eggplant lasagna rolls:
Remove the top and bottom of the eggplants. Cut the eggplant lengthwise into 1/4 inch or so strips. Do not use the strips that are composed solely of peel.
Lay eggplant strips out on a baking sheet, and salt on both sides. Let sit out for 20 or so minutes, then blot out excess water.
Preheat oven to 350 degrees and roast the eggplant slices for 20 minutes.
In the meantime, mix together cheeses, basil, kale, and egg and set aside.
Preheat oven to 400 degrees. Cover the bottom of a 9 by 13 inch casserole dish with tomato sauce. To assemble the rolls, lay out the eggplant strips and spoon in a tablespoon or so on each one. Then roll up and place the rolls seam side down on the baking dish. Cover with more sauce and a little Parmesan cheese.
Bake at 400 for 25 minutes. Enjoy!